1. Are your dinosaur bones real?

Most of the dinosaur bones I bring with are casts rather than actual fossils. There are many reasons for this.

1. A fossil is solid rock. If the bigger casts were real, they would be too heavy to transport to schools and libraries.
2. Scientists keep the real fossils to study. They make casts, so people can see what they look like.
3. Real fossils are very expensive, sometimes even thousands of dollars.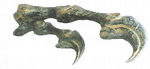 The casts I have are museum-quality replicas of the real thing. That means that they are good enough copies to be in a museum. Scientists make the molds from the real bones so that every bump and scratch on the original is found on the copy.
2. How did you get started as an author?

Though I always wanted to be an author, I didn't have enough confidence in my writing to try submitting it for publication. In 1987 I got a job as an editor with The Child's World Publishing Company.

My boss liked my writing so much, she let me write quite a few books during the three years I worked there. After I left there, I continued to write and now had enough confidence to send things off. Since then I've worked for about ten different publishers.


3. What was Kids Love a Mystery?

Kids Love a Mystery was started by Joan Lowery Nixon in 1998 during her term as President of Mystery Writers of America (MWA). She wanted to do something special for the children's mystery authors in MWA, so she arranged to have Barnes & Noble do half-a-dozen autograph parties in their stores for children's mystery authors. After that first year Ms. Nixon couldn't continue to run the program, and I got the opportunity to do so. I did so as a volunteer. Barnes & Noble backed out, so I had trouble setting up autograph parties. After talking with some MWA staff, I decided to steer the program toward a literacy program. We decided to give "Eddy Award" certificates to kids who read or wrote mysteries.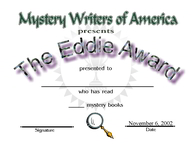 I designed a packet to go to schools and libraries. It contained a brochure on how to set up a reading or writing program, a sheet for recording books read, posters to advertise the program, one "Eddy Award" certificate for each student in the program, and five autographed mystery books to offer as prizes. This packet was sent for free to any school or library that requested one. The materials were paid for by MWA and myself. My personal life took an unexpected turn in 2004, and I had to resign, but by that time the program had expanded to 10,000 kids participating in 31 different states.


4. Did you ever go on a real dinosaur dig?

Yes! In 1990 my family and I went to western Colorado and joined a dig. It was one of the best times I've ever had. We worked in a bed 100 million years old. I found three real bones, one of which turned out to be from a brand new species of dinosaur. It was the first armored dinosaur found in Jurassic rock. All previous ones had been found in Cretaceous rock. The paleontologist in charge of our dig, Jim Kirkland, named it Mymoorapelta.


5. What is your favorite writing genre?

It's really a tie: mysteries and fantasy.


6. Are people just born creative writers, or do you think that life experiences make someone a good writer?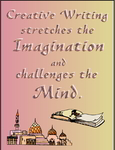 Some people do seem to be born with talent, but just talent isn't enough. Writing is a craft that can be and must be learned, and only experiencing life can give a writer something to say.

7. What authors have influenced your writing?

C. S. Lewis, Madeline L'Engle, and many, many others.


8. What advice would you give to someone who wants to be a writer?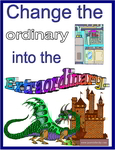 Keep a journal and try to write in it every day. Don't ever give up, and don't listen too much to critics.

If you have any additional questions about me, my books, my dinosaur bones, Author Visits, School Visits, or Library Visits, Feel free to e-mail me. Janet Riehecky