In high school I was greatly influenced by my senior English teacher. Mr. Corrigan taught me how to take the mishmash of ideas in my head and put them into a logical, organized framework. Most of my style for writing nonfiction was developed then. This teacher inspired me so much that I decided to become an English teacher. I hadn't given up my dream of writing, but I didn't believe an ordinary person could be a real writer.
In college I majored in English education and met and fell in love with my future husband (to whom I have been married forty years). I wrote paper after paper for classes, but, except for a diary, I didn't write anything on my own. After graduation, I married, took a semester off, and then entered graduate school, working on a degree in speech communication.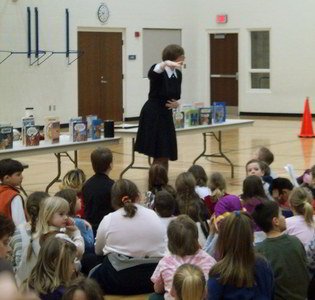 After finishing a master's degree, I took my first teaching job in Blue Mound, Illinois. During the school year, I was too busy to write, but during vacations I wrote and wrote and wrote, mostly science fiction fantasy which is my favorite reading material. However, I was too afraid ever to send anything off to a publisher. During the next ten years we moved six times. I returned to graduate school for a master's degree in English, had a baby, and took another teaching job. The writing bug had bitten me thoroughly now, and wherever we went I found time to write. I finally gained the courage to send some short stories to magazines and jokes to Reader's Digest, but everything was rejected.
In 1987 I took a job as an editor for the Child's World Publishing Company. After I had been there only a few weeks, the publisher asked me to work on a series she wanted to do on dinosaurs. I leaped at the chance, having been fascinated by dinosaurs since I was little. I prepared a manuscript, and the publisher liked it so much she decided I should write the whole series. The first book was Allosaurus. It was followed by Tyrannosaurus, Stegosaurus, Triceratops, and Apatosaurus. When the books came out in 1988, the Society of Midland Authors awarded them its Summit Award for Best Children's Nonfiction. My publisher had me write additional books until the series numbered twenty-four books. They were home-marketed and translated into Spanish.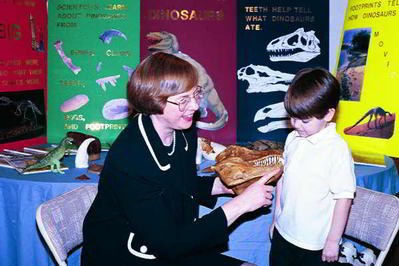 In 1990 I left Child's World and became a full-time freelance writer. In the years since then I've published 126 books with many publishers, including Benchmark Books, Capstone Press, Children's Press, Discovery Books, Forest House, Heinemann Library, Lerner, Marshall Cavendish, McClanahan, Macmillan, Steck-Vaughan, Scholastic Library, and Wing Park Publishers. Most of the time I write nonfiction, but I do have a mystery series for middle graders called the Red Door Detective Club.
I love writing for younger children, though I have written a young adult fantasy novel which I hope to publish someday. I like to have more than one project going at a time, keeping a balance between fiction and nonfiction. Currently I'm working on a dinosaur adventure for middle grade readers. I also do many school assemblies. I present several programs, including "The Magic of Writing," in which I pair tips on creative writing with magic tricks to teach the writing process; "Writing Magical Nonfiction," which also uses magic to teach and conforms to Common Core standards; "Mystery and Magic," in which I use magic to teach about reading and writing mysteries; "Learning about Dinosaurs," in which I share my extensive collection of dinosaur fossils and museum-quality replicas with students, teaching them how scientists use these bits and pieces to learn about dinosaurs; and "The Care and Feeding of Pet Dinosaurs," a humorous program which features gigantic props and funny tips on how to take care of the best pet of all.
As a nonfiction writer I have had the wonderful opportunity to travel all over the country doing research. My trips have included a dinosaur expedition in Colorado where I actually dug up three real dinosaur bones, one of which turned out to be from a brand new species of dinosaur, the Mymoorapelta. While researching a book on the Osage Indian nation, I spent three days on their reservation in Oklahoma, meeting some of the most warm-hearted and hospitable people I've ever known. I traveled to New Jersey to read the unpublished papers of Thomas Edison while doing a book about his life. I visited Splendid China in Florida to do a book on China, and St. Louis and Galena doing a book on Ulysses S. Grant. After serving as a judge for the Edgar Awards, I got to attend the award ceremony in New York City.
From 1998 to 2004, I served as the National Director of Mystery Writers of America's literacy program, Kids Love A Mystery. Under my direction, the program expanded from half a dozen programs to 120 programs in 31 states, involving 10,000 children.
I never take for granted how lucky I am. I am a deeply-committed Christian and feel God has blessed me greatly in giving me the opportunity to work full-time at a career I love. I try to give something back by working with unpublished writers. I think I have the best job in the whole world, and my hope is to continue writing for the next fifty years. Please feel free to e-mail me with any questions you may have.Janet Riehecky