Welcome to my site. I am glad that you are taking time to visit. I have the greatest job in the world - I get to write books for kids! I also get to share my books and my experiences
visiting libraries and schools.
I have published 118 books, both fiction and nonfiction, and love to share with kids my passion for reading and my passion for writing.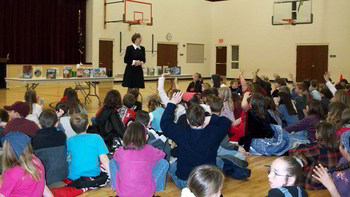 Here you'll find information about me, my books, my dinosaur bones, and details about School Visits or Library Visits.
If you want to know more about how to arrange for me to visit your school or library, try
Author Visits
where you will find information about my most popular presentations as well as a fee schedule.
If you want to know more about me, check the
About Janet
page. A complete list of my books for children can be found under
My Books
.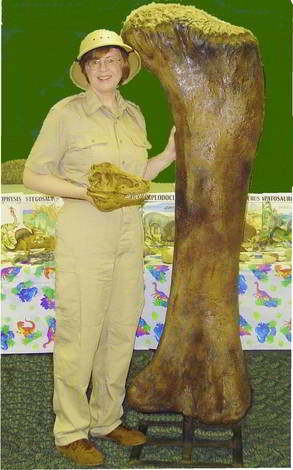 Kids love dinosaurs. I bring over 40 fossils and museum quality replicas including Teeth, Claws, Bones, Skulls, Eggs, Feet, and Dinosaur Poop to your school or library when I present "Dinosaur Encounter." My collection includes a 5'7" Apatosaurus femur and a complete T-Rex foot!
Feel free to test your knowledge of dinosaurs on the
Dinosaur Quiz
page where you will find an interactive quiz, the latest dinosaur jokes, and fun facts about dinosaurs.
Look for answers to commonly asked questions under
FAQ
about
Author Visits, School Visits,
Library Visits,
me, or my dinosaur bones. Feel free to e-mail me with any other questions you may have.
JR@JanetRiehecky.com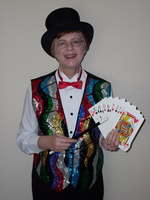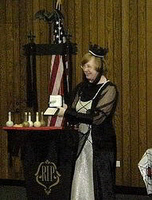 What others are saying:
"She amazed our students with her magic tricks. All of the students were very responsive as she involved them in discussions. She was very enthusiastic and communicated well with the students at all of the grade levels."

Kathleen Morrissey, Reading Specialist
Pheasant Ridge School, Glendale Heights
"Ms. Riehecky did an excellent job inspiring the students to be authors themselves. She is not only a wonderful author of children's books, but has a presentation that is visual, inspiring, and exciting."

Laura Wallis, Teacher
Sleepy Hollow Elementary School
"It is very evident that she has a special rapport
with children as she shares with them her
enthusiasm and excitement about writing."

Margaret Young, Asst. Director Instruc. Services
Deerfield Public School
"Your program has been praised by dozens of patrons
over the last week.
Your enthusiasm was enchanting and inspired the children to exercise the paleontologist within them."

Amy Anderson, Children's Programming Coordinator
Cook Memorial Public Library District
"Your dinosaur program was a blast!
The adults as well as the kids loved your style and way of communicating.
Thanks so much, Janet, for education at its best!"

Susan Madorin, Youth Services Manager
Oak Brook Public Library
"It was fun to see all of the smiles and the laughter as you showed your program.
The patrons definitely enjoyed the program."

Carol Shaw, Library Assistant
Geneva Public Library District
"Your presentation is very well done -exciting, organized, and teaches a lesson.
You do an outstanding job and the teachers were very pleased
as was I."

Karen O'Leary, Library Media Specialist
Adams School
"It's easy to tell that you love to share your craft
with young people.
Our students and teachers enjoyed your presentation.
I'm sure you've encouraged students to keep writing."

Julie Enmunson, Y.A. Coordinator
Grant School
"The kids really enjoyed your presentations.
I can't tell you how many students stopped me in the hallway the next day to tell me how much they loved you."

Pat Schoeneberg, Reading Specialist
Americana Intermediate School
"Janet has an exceptional talent for creating enthusiasm and excitement in her audiences through her presentation of educationally relevant information.
I highly recommend any of her creative programs!"

Julie Leibengood, Teacher
Hampshire Elementary School